Pharaoh's Way Disc Golf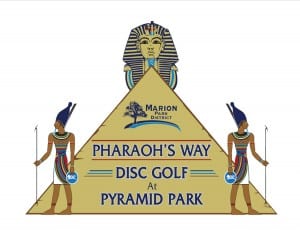 Pharaoh's Way Disc Golf
Designed and built in 2016, Pharaoh's Way Disc Golf is a professionally designed and challenging recreational 18 hole Disc Golf course.  This course winds through Pyramid Park and is designed for all ages to enjoy.  Concrete tee pads with permanent chain-link tees are placed throughout the course.  Spring and Summer Disc Golf leagues are available.
Click Here for a map of Pharaoh's Way Disc Golf
Check the Pharaoh's Way Disc Golf Course and Marion Park District Facebook page for more information.
https://www.facebook.com/pharaohswaydiscgolf/
https://www.facebook.com/Marion-Park-District-171158266420527/